Eat Your Heart Out in NOLA
NOLA is a town to party and to eat. The list below catalogues my food, drink, and walking adventures through New Orleans over one epic long weekend in January 2016. Prepare to eat salad and vegetables for days before and after the trip, as it'll be challenging for any foodie to contain oneself. This "Essential New Orleans Restaurants" served as the basis of THE ultimate culinary weekend escape.
Cochon Butcher (Uptown) – My first meal in New Orleans. After failing to get a seat in Cochon, I opted for Butcher right next door. This did not disappoint one bit. I may go as far to say this was the best sandwich experience I've ever had. Was it because I'd been traveling all day? Was it because I was hungry and it was raining? Was it the hipster interior? Either way, to say these sandwiches are incredible would be an understatement. (I had the muffaletta. Mmmm, toasty, warm, juicy muffaletta. The leftovers made for a nice breakfast the next day.)
Friday — Uptown & The French Quarter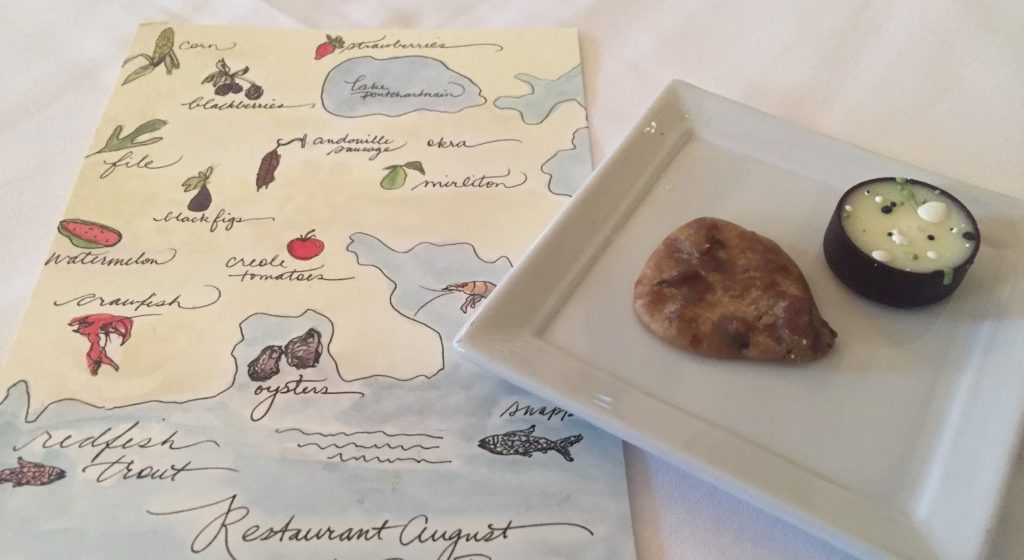 August (Uptown) – Fine foodie alert! This is one of the best budget fine-dining experiences you can have, assuming you're free for Friday lunch. For a party of one, my $20.16 fixed price lunch experience was extravagant and pleasant, without being uncomfortable or pretentious.
Addiction (French Quarter) – There's a reason why this coffee shop has 5 stars with 241 reviews on Yelp. The people are incredibly friendly, the interior is funky, and the drinks are good. This shop was a great place to post up for a few hours for work (good wifi, good caffeine, and good ambiance). Upon my exit, the baristas gifted me with free pink beads for Mardi Gras. Wonderful.
French Quarter – A delightful place to just walk and experience. The intimate streets, lively music, and beautiful French architecture make for a pedestrian's paradise. I particularly enjoyed the walk along Royal Street and Decateur (but would avoid Bourbon Street).
French Market – Why go to a tourist shop when you can go to this flea market? I bought beads and a mask here for a whopping $16.
Killer Po'Boy (French Quarter) – Good gulf shrimp po'boy with sriracha in the back of a bar. Not bad. $14, cash only.
Sylvain – Romantic ambiance for late night/ date night drinks.
Sazarec Bar  – New Orleans is certainly known for its sazarecs, but I don't like sazarecs very much. An underwhelming experience, but worthwhile to visit if only for its cultural and historical significance.
Saturday — Garden District, Treme, and Frenchman Street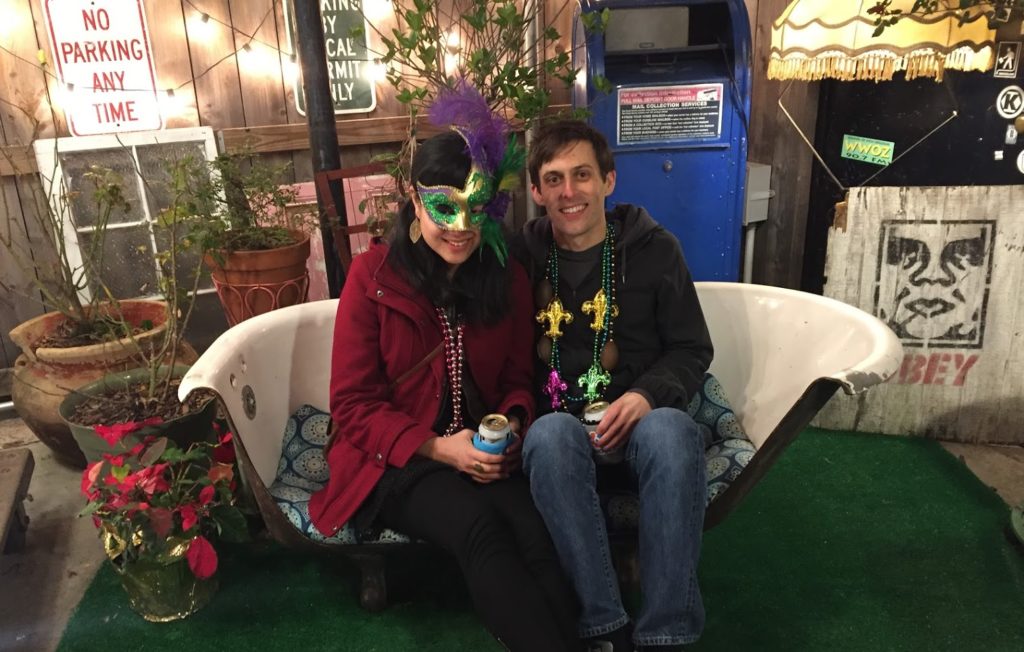 Surrey's (Garden District) – Good breakfast and brunch spot. Sitting solo at the bar, I exchanged a nice meal with other solo foodies — local writer and an actor shooting for a new Tom Cruise movie. New Orleans has very favorable tax credits to the film industry, so several movies are filmed in the city.
HiVolt (Garden District) – Recommended by the local writer, and a good spot to post up and work. Strong wifi, hip ambiance, and a "blended cacao espresso smoothie." Done.
Willie Mae's Scotch House (Treme) – This place is recognized as America's best fried chicken, and well worth the food pilgrimage to Treme. The wait can be very long, but I seemed to avoid it by arriving just before closing time (5 p.m. daily) at 4:30 p.m. The fried chicken was very good.
Kreux de Vieux Parade – This year's theme was Triple X. At some point, there were two fires in the streets. I'll leave you to your imaginations.
Frenchman Street – Lively local and much preferred alternative to Bourbon Street. Attractions include R Bar, which was playing classic 90s R&B jams, and the Frenchman Art Market, which seemed straight out of a Maker warehouse in West Oakland. I'm a sucker for stringed lights in outdoor art spaces.
Café du Monde – Classic signature beignets and hot chocolate, served 24 hours. What more could one want.
Sunday — Garden District, Bywater, and Uptown Once More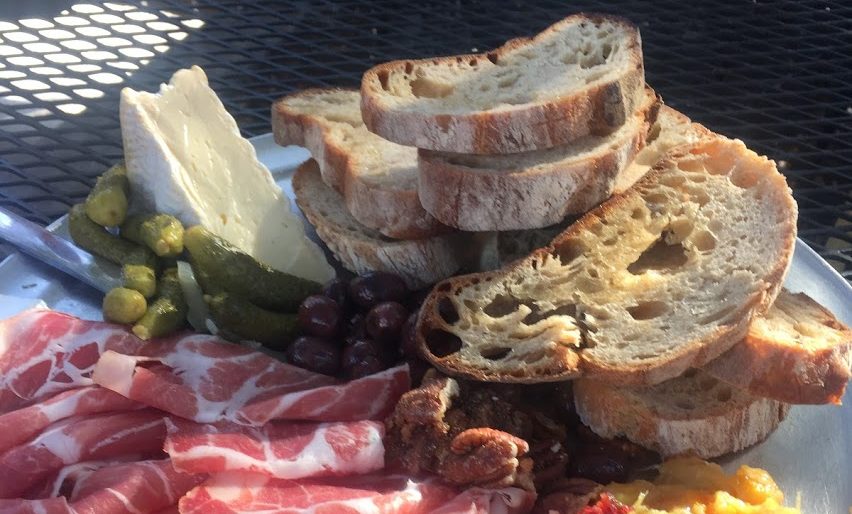 District Donuts, Sliders, Brews (Garden District) – Because I love donuts, and there's the promise of maple bacon donuts. Arteries successfully clogged.
Second Line – A big band parade through different communities in New Orleans. This weekend's second line went through the Central City.
Bacchanal (Bywater) – "A wine shop that just kept expanding." Pick a wine/drink, pick cheese/meats, get it plated, sit outside, relax, and enjoy the music. A simple concept that was very well executed.
St Roche's Market (Bywater/Marigny) – A newly renovated building in Bywater/Marigny with small restaurant ventures testing out concepts. I was very full so did not try anything new, but did enjoy the ambiance and a small sample of king cake.
La Petite Grocery (Uptown) – A suitable fancy date night, and the fanciest dining experience I had during my time in New Orleans. The blue crab beignets and gulf shrimp & grits lived up to the hype.
Monday – Au Revoir New Orleans
Mother's – Cafeteria spot serving good ol' soul food. My cup of jamabalaya really hit the spot. Got there right before the lunch madness.
Pulp and Grind – They serve Sight Glass. Good place to post up for a couple hours and work, complete with outlets.
Pralines (French Quarter) – After some internet research, I elected for some freshly made pralines from Southern Candymakers ($24.95/lb) and Leah's Pralines ($12 for 6pralines, $1 for "factory rejects"). A fine fat gift for friends.
Cochon Butcher – So good that I had to do it again before my evening flight. This time I also opted for a side of cole slaw and two bacon pralines.
Who Dat? For Next Time…
Gumbo, crawfish etouffe.
New Orleans School of Cooking. 2.5 hour cooking demonstrations with food.
Parks! Audobon? City Park? Jean Laffitte?
Observations on the city…
Party all day and all night. Experiencing New Orleans should be a marathon, not a sprint. Eat your vegetables before and after the trip. Find ways to continuously replenish your system.
The French Quarter/ Central Business District offers a very stimulating walking experience with music at every corner. French influence is apparent in the architecture. The tiled street names on the corner are a particularly nice touch.
Rich history and colorful identity. The fleur de lis elbem and Saints gear can be seen everywhere.
Lower Garden District rich with unique mansions and well manicured landscapes. Magazine is a main stretch with nice shops and restaurants.
Affectionate terms commonly used without ill intentions – hey baby, sweetie, beautiful.
Observations on transportation…
Transport from the airport to city center is limited: (A) Taxis operate a flat rate of $36 + tip from MSY to the CBD. (B) The Airport Shuttle is $24 + tip. I had difficulty reserving a ride from MSY, but I arranged for a ride to MSY by calling their hotline. The service was spotty (3:40 p.m. arranged pick-up, 4:15 p.m. actual pick-up), but at least the phone dispatch system kept me posted on driver status. (C) Transit! Worth exploring in the future (<$4), but buses only run every hour and require transfers. Too time constrained to explore on this trip. (D) Uber recently started operating in New Orleans. Lyft and other similar transportation companies have not yet penetrated the market. Uber does not serve the airport.
Gas is phenomenally low, at $1.50/gallon.
St Charles Streetcar and transit fares are $1.25 per trip ($3 for a day pass)
RTA lovingly called Random Transportation Authority by a local writer
There are many one-way streets in the city center, likely due to small street widths. This mostly makes for a pleasant walking experience, but difficult for any other mode.
Sidewalks are falling apart in several areas, and fall victim to ancient (and beautiful) tree roots.
Pedestrian counters are absent from most intersections.
Several bike lanes built, but unclear about usage. Bike racks also available.
Wayfinding is good, and especially noticeable along Magazine Street. Signs have the fleur de lis emblem.